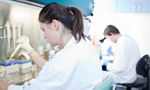 Medical Diagnostics
World recognize experience
The current world trend is the concentration of labs in large "production" units for routine analysis and the development of satellites labs, closer to the patient, for emergencies or specifics tests.
This market needs full automatic analyzer products but also smaller ones for emergencies and satellite labs.
We are used to develop small and large analyzers for this market with a world renowned experience in hematology cell counter.
Point Of Care Testing ( POCT )
Capilary blood specialist
Analysis are performed in point of care units by no-trained users. They are mainly screening tests to consolidate the diagnostic of the physician.

This market needs small screening units,easy to use, compact, secure,no maintenance, no ambiguous results and available 24/24 h. Capillary blood sampling is appreciated.
Our creativity center is particularly useful on this growing market with high potential of innovation to create and develop instruments.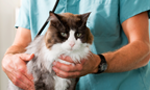 Veterinary Analysis
Expert team
Vets need in house laboratory equipment able to provide quick results necessary to make a diagnostic and deliver the drugs.

This market needs small screening units easy to use, compact, robust, portable and really dedicated.

Our expert team works with veterinarian partners to develop instruments specially adapted to this market.